"Multiple Emulsions (W/O/W, S/O/W)", "Study of hepatic arterial-injection therapy"
Multiple Emulsions (W/O/W, S/O/W, etc.) 
"Multiple emulsion" refers to multi-phase emulsification, W/O/W, O/W/O and includes, and S/O/W containing fine particles.
 SPG emulsification is very suitable for the preparation of these multiple emulsions, and is characterized by the ability to encapsulate the active ingredient with high accuracy. In addition, since the size of the emulsion can be freely adjusted according to the purpose, it is applied to various applications as a liquid capsule.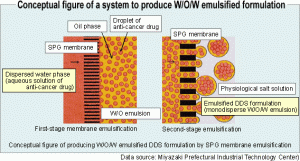 Study of hepatic arterial-injection therapy with "W/O/W emulsion
 Research group of Dr. Shushi Higashi (Director of Kojin-kai Medical City East Hospital) and Miyazaki Prefectural Industrial Technology Center have developed the W/O/W emulsion formulation containing a water-soluble anticancer drug using SPG emulsification.
This is an emulsion formulation for hepatic arterial infusion therapy aimed at treating hepatocellular carcinoma (HCC). It is prepared by SPG emulsification in order to enclose water droplets of a water-soluble anticancer drug in an oil-based contrast agent (lipiodol) and adjust the size of the oil droplets to 70 μm according to the size of blood vessels.
The characteristic of this emulsion is that the water-soluble anticancer drug is encapsulated in oil droplets, therefor the drug can be delivered to the affected area without damaging the vascular endothelium, so the drug can be administered as many times as necessary. In addition, since the size of the emulsion is uniform, it is difficult for it to flow into blood vessels other than the intended one, and anticancer drugs do not go to other organs, so there are few side effects.
In addition to water-soluble anticancer drugs, platinum preparations of fine particles often used for hepatocellular carcinoma (HCC) hepatic arterial infusion treatment. SPG emulsification can also be suspended (S/O, SW/O) or encapsulated (S/O/W) in such fine particles in an oil-based contrast medium.